Oil conversion kit
It has taken a while but the oil conversion kit for the Ford Zodiac is finally installed! I bought the kit way back in 2017 but life intervened and it has finally been installed in 2020.
What is a oil conversion kit?
What is a oil conversion kit, also known as a oil filter adaptor;
Oi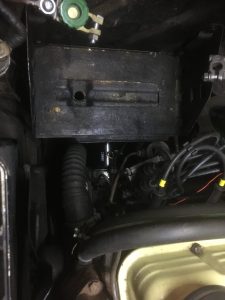 l filter adaptors enable older oil filter systems to use modern spin-on oil filters and are available for a wide range of classic cars. They are easy to fit and therefore make changing the oil filter a clean and simple operation.  The adaptors do not affect oil pressure switches, warning lights, or pressure-relief valves.
In many cases they will provide improved start-up oil pressure. This is due to the use of anti-drain valves in modern spin-on oil filters. Besides that all cars will benefit from the improved filtration found with modern filters.
Installing the oil conversion kit is pretty straight forward. I started the Zodiac and let it idle to get the oil in the engine warm. Then I drained the oil from the engine. After that I had to remove the tray for the battery to gain access to the old filter. The old oil filter came off fairly easy. It even did not leak a lot of oil, so no mess! A new seal has been fitted, the conversion attached and bolted on. And a modern spinn on oil filter is put in place.
The engine was filled with approxiamately 4.8 litres of new oil. Curious if everything was ok and no oil was leaking I started the engine. And it ran beautifully. No leaks or weird noises, everything fine! I lett the car stand for the night, checked the oil level agin and topped up the oil to the corrrect level.
All this took about 4 hours in total. No it is time for regular maintenance!